OUR DIVISIONS
The Sherman family has for decades provided the restaurant, retail, industrial and foodservice industries with quality products and innovative food concepts.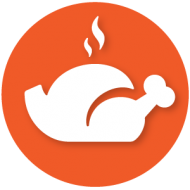 Kustom Pak Foods, Ltd was born out of a third generation family run business. We recently celebrated our 26th anniversary.
We are strategically located in Sioux City, Iowa directly off Intestate 29. Sioux City Gateway Airport terminal is within shouting distance from our Plant.
Kustom Pak evolved from a Home Delivery supplier and Poultry Boning operation into a fully functional Multi-Species Further Processing business, servicing numerous household Brand name customers. You likely have something in your cupboard or refrigerator our company helped produce.
Kustom Pak operates within our 185,000 sq ft. production facility on 8.5 acres, leaving plenty of room for our next expansion. We've grown from a starting point of 20 employees to over 700 today.
Kustom Pak strengths are noted in our successful long term business relationships and seasoned veteran staff. Our quick response time to evolving customer's demands and future prospects set us a part form other suppliers.
Kustom Pak Foods operates under one basic but effective business philosophy, "WIN/WIN" for Customers, Suppliers and our Company.
Our divisions include:
• Kustom-Pak Foods, Inc. is your value-added further processor of poultry, beef, pork, turkey and cooked items
• Tur-Pak Foods offers co-packing and assembled food solutions
• Sherman Family Foods is a the Midwest provider of foodservice products
#FrontNov 14th, 20120 comments
OUR PHILOSOPHY

"We operate under one basic, but effective business philosophy: 'WIN/WIN' for Customers, Suppliers and our Company."

SEARCH OUR SITE

CONTACT SALES

Marc Sherman
VP of Sales and Marketing
6201 MacArthur St.
Sioux City, IA 51111
P: 712-253-8106
F: 712-277-3002